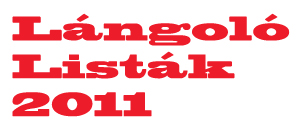 Pillanatokon belül vége a 2011-es évnek, a zenei médiában ez a nagy megmondások ideje, amikor minden lap évösszegző listáit publikálja. Természetesen mi sem maradunk ki a buliból, ám még mielőtt elárulnánk, mik voltak szerintünk 2011 legjobb lemezei, számai, koncertjei, és hasonlók, közreadunk egy ennél még sokkal érdekesebb összeállítást. Az elmúlt hetekben egy rakás zenészt és zenekart kértünk fel, hogy írják meg, mik voltak azok a lemezek és dalok, amiket a legtöbbet hallgattak idén, ami számukra leginkább fontos volt az idei termésből. Nos, nem csak a zenei újságírók, de a zenészek is szeretnek listákat gyártani, úgyhogy olyan sokat kaptunk, hogy belefáradna az drága olvasó mindet egyszerre végiggörgetni, így most itt az első rész, közel húsz magyar zenész és zenekar listájával, már önmagában ez is szép hosszú lett.
Nyilván mondanunk sem kell, igazán izgalmas válogatásokat kaptunk, kérésünket pedig – várható módon – meglehetősen tágan értelmezték a szereplők. A legtöbben lemezeket soroltak fel, vannak, akik csak dalokat írtak, és akadtak, akik mindkettőt. Néhányuknak egy tízes lista sem jött össze, más kapásból húsz tételt küldött. Így aztán úgy döntöttünk, az lesz a legjobb, ha meg sem próbáljuk tartalmilag egységesíteni az arculatot.
Rajongók és zenebuzik számára reményeink szerint már most rendkívül szórakoztató lesz elmélyedni benne, hogy miket hallgattak idén a korszak neves magyar zenészei, abban pedig biztosak vagyunk, hogy évek múlva remek kordokumentumként funkcionál majd az alábbi összeállítás.
A zenészek és zenekarok abc-sorrendben szerepelnek.
ANEZ
Björk - Biofilia
Björk - Crystalline
Lykke Li - I Follow Rivers
Lykke Li - Jerome
The Do - Both Ways Open Jaws
Amon Tobin - ISAM
Little Dragon - Crystalfilm
Loka - Temporary External
Radiohead - The King of Limbs
Coldplay - Paradise
Belga (Titusz, Bauxit és Tokyo közös listája, mindenkitől néhány darab)
Beastie Boys - Funky Donkey
J Trick - Def Jam (Hostage Moombahcore Remix)
Opiuo - Robo Booty
Mr Chop - Get On The Mic
Kiscsillag - Holding
William Shatner - Silver Machine
Metronomy - The Look
Black Devil Disco Club - To Ardent feat. Nancy Sinatra (Grovesnor Remix)
DJ LK - Numa nice numa boa
Rodion, Golden Bug - Do The Washing Machine feat. Lavinia Claws (Toomy Disco Rub Dub Mix)
Egyedi Péter (Óriás)
Supernem - Tudományos-fantasztikus pop
Dav - Nyílik
Uzipov - 2011 EP
Grand Mexican Warlock - Aeons
Turbo - Lost Measure
Esti Kornél - Boldogság, te kurva
Hó Márton és a Jégkorszak - Dalok a fürdőszobából
Kipu - És medvévé változott
Fish! - SAV
+1 dal:
30Y - Emberírtó
Fehér Balázs (The Carbonfools)
Fink - Perfect Darkness
LMFAO - Party Rock Anthem
Aloe Blacc - I Need a Dollar
Kavinsky - Nightcall
College feat. Electric Youth - A Real Hero
Jamie Woon - Shoulda (Samy Chelly Remix)
Fink - Honesty
Tyler The Creator - She (feat. Frank Ocean)
Hurts - Wonderful Life
Tyler The Creator - Yonkers
Felföldi Péter (Chief Rebel Angel)
C.Aarmé - Self Titled
Dax Riggs - We Sing of Only Blood or Love
Foo Fighters - Wasting Light
Kaizers Orchestra - Violeta Violeta Vol I
Red Fang - Murder the Mountains
Ricochets - The Ghost of Our Love
Rival Sons - Pressure & Time
Sivert Høyem - Exiles
William Elliott Whitmore - Animals in the Dark
Zen Guerrilla - Shadows on the Sun
Fodor Máriusz (Magashegyi Underground)
Cold War Kids - Royal Blue
Timber Timbre - Woman
Whomadewho - Every Minute Alone
James Blake - Wilhelm Scream
Iamamiwhoami - Y
The Do - Too Insistent
Young Galaxy - Cover Your Tracks
Fallulah - Hold Your Horses
Band of Horses - On My Way Back Home
Crystal Fighters - At Home
Hó Márton (Hó Márton és a Jégkorszak, Bastiaan)
Top 10 lemez:
PJ Harvey - Let England Shake
Bon Iver - Bon Iver
Bajdázó - Lekapcsolom a villanyt a fejemben
Erik Sumo Band - The Ice Tower
James Blake - James Blake
Washed Out - Within and Without
White Denim - D
Zombie Girlfriend - Music For Porn
Gil Scott-Heron and Jamie XX - We're New Here
The Beach Boys - The SMiLE Sessions
Top 10 dal:
Gil Scott-Heron and Jamie XX - NY Is Killing Me
James Blake - The Wilhelm Scream
Bon Iver - Perth
Wild Beasts - Albatross
Lana del Rey - Video Games
PJ Harvey - England
Radiohead - Give Up the Ghost
Bajdázó - Engem úgy veszel körül
Kiscsillag - Elég a maradék
Erik Sumo Band - Bleeding Dinosaur
Kátai Tamás (Thy Catafalque)
ICS Vortex - Storm Seeker
Opeth - Heritage
OneHeadedMan - We Are Not Unique (EP)
Oranssi Pazuzu - Kosmonument
Sólstafir - Svartir Sandar
Decapitated - Carnival Is Forever
Nader Sadek - In The Flesh
Wolves In The Throneroom - Celestial Lineage
Absu - Abzu
Baaba Kulka - Baaba Kulka
Bajdázó - Lekapcsolom a villanyt a fejemben
Új Látásmód Fúzió & Csermanek Lakótelep - Slágerbarátság (EP)
Kovács Geri (Soerii & Poolek, Volkova Sisters, A kutya vacsorája, Dj Bootsie Quartet)
Bon Iver - ST
NewVillager - ST
Beirut - The Rip Tide
Active Child - You Are All I See
Lykke Li - Wounded Rhymes
Radiohead - King Of Limbs
ZZT - Partys Over Earth
Kurt Vile - Smoke Ring For My Halo
Jay-Z & Kanye West - Watch The Throne
James Blake - ST
Minda Endre (Hangmás)
WhoMadeWho - Knee Deep
Anna Calvi - Anna Calvi
The Kills - Blood Pressures
Vivian Girls - Share the Joy
Trentemoller - Late Night Tales
Tom Waits - Bad as Me
The Horrors - Skying
Nagy István (Esti Kornél)
Them Crooked Vultures - Them Crooked Vultures
Does It Offend You, Yeah? - Don't Say We Didn't Warn You
Trent Reznor and Atticus Ross - The Girl with the Dragon Tattoo Soundtracks
Björk - Biophilia
Skinny Puppy - HanDover
Radiohead - King of the Limbs
The kills - Blood Pressures
St. Vincent - Strange Mercy
Metronomy - English Riviera
Arctic Monkeys - Suck It and See
Nemes András (Pluto, Biorobot)
Kasabian - Days Are Forgotten
The Black Keys - Lonely boy
Jamie Woon - Lady Luck
Adele - Rolling in the Deep
Tom Waits - Chicago
The Ting Tings - Hang It Up
Szabó Balázs Bandája - Zaj
Isten Háta Mögött - Közkút
Frenk - Nyitott szemmel
30Y - Városember
Pálinkás Tamás (Tej, Isten Háta Mögött)
Jessie J - Who You Are
Tyler, the Creator - Goblin
Beyoncé - 4
TV On The Radio - Nine Types Of Light
Óriás - Gondalapos
Jane's Addiction - The Great Escape Artist
Justice - Audio, Video, Disco
The Weeknd - House of Balloons
Rihanna - Loud
Volkova Sisters - EP
Pándi Balázs (Chief Rebel Angel)
Today Is The Day - Pain is a Warning
Tyler the Creator - Goblin
Bastard Noise - Skulldozer
Bill Orcutt - How the Thing Sings
Maruta - Forward into Regression
Mastodon - The Hunter
The Murder Junkies - Road Killer
Hudson Mohawke - Satin Panthers
Eraldo Bernocchi / Harold Budd / Robin Guthrie - Winter Garden
VAZ - Chartreuse Bull
Szabó Tamás (The Moog, Bastiaan)
Metronomy - Bay
M83 - Midnight City
My Morning Jacket - The Day Is Coming
The Kills - Satellite
Justice - Civilization
Swedish House Mafia - Save The World
David Lynch - Pinky's Dream
The Raveonettes - War In Heaven
Hangmás - Luna
Fleet Foxes - Helplessness Blues
Szepesi Mátyás (Konyha, Magashegyi Underground)
Arctic Monkeys - Suck It and See
Ed Sheeran - +
Ghostpoet - Peanut Butter Blues & Melancholy Jam
Tinariwen - Tassili
The Black Keys - El Camino
White Denim - D
Jono McCleery - There Is
Erik Sumo Band feat. Kiss Erzsi - The Ice Tower
St Vincent - Strange Mercy
Tom Waits - Bad As Me
Varga Zsuzsa
The Black Keys - Lonely Boy
The Kills - Future Starts Slow
Buraka Som Sistema - Hangover (Bababa)
Foster The People - Pumped up Kicks
P.J. Harvey - The Last Living Rose
Azealis Banks - 212
Snow Patrol - Called Out in The Dark
Arctic Monkeys - Don't Sit Down 'Cause I've Moved Your Chair
Kasabian - Days Are Forgotten
The Horrors - Still Life
Vigh Dávid (Turbo)
Fink - Perfect Darkness
Alberta Cross - Rolling Thunder EP
Graveyard - Hisingen Blues
Low Roar - Low Roar
Isten Háta Mögött - Ü
Apparat - The Devil's Walk
Fleet Foxes - Helplessness Blues
Mastodon - The Hunter
Bon Iver - Bon Iver
Radiohead - King Of Limbs
A hozzászólások a vonatkozó jogszabályok értelmében felhasználói tartalomnak minősülnek, értük a szolgáltatás technikai üzemeltetője semmilyen felelősséget nem vállal, azokat nem ellenőrzi. Kifogás esetén forduljon a blog szerkesztőjéhez. Részletek a Felhasználási feltételekben.